About Kharkov City
About Kharkov city, the Capital of Ukrainian Brides!
This is the best place in the world to look for a beautiful Ukrainian woman for dating and marriage. Enjoy reading this page about Kharkov (Kharkiv) and come to Ukraine to meet the woman of your dreams!

Why Kharkov is the Capital of Ukrainian brides
Travel to Kharkiv comfortably
A safe modern city
Kharkov history and places to see
What else you can do in the city
Places to live and places to eat out
Photos of the city
Why Kharkov is the Capital of Ukrainian brides
The most beautiful Ukrainian girls live in Kharkov! Nowhere else in the whole Ukraine you will ever find such a beautiful collection of Ukrainian brides of all looks, ages and kinds.
Kharkov has always been the historical and geographical center of the region with the population of more than 4 million, concentrating the best people inside the city. They've been coming for work, living and studies. There are more than 25 Universities and colleges in the city and around it, which every year bring in the new wonderful girls from all over Ukraine, Russia and other FSU countries.
Kharkov is the scientific and educational center. Many young people stay here after the studies, they don't want to return to the smaller cities and towns. Therefore there are always lots of beautiful Ukrainian girls here.
And these women want to find their happiness, want to build the families. There are not enough men for them and they come to UFMA to look for their soul mates abroad. These Ukrainian women are beautiful, fit and attractive; they take great care about themselves. They are the real treasure of this city and of the country of Ukraine. When you will come to Kharkov, you will be spinning your head all the time, when your eyes will follow the new princess coming along in the street.
Kharkov is famous for having its women winning lots of beauty contest around Ukraine and the globe. See the beautiful Ukrainian girl here now.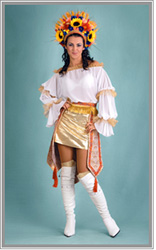 Travel to Kharkiv comfortably
The city is in the good location. It is in the continent climate zone and lays on the flat terrain. Kharkov has the modern international Airport, built in 2011, which comfortably received thousands of guests of the Euro 2012 Soccer Cup games.
The airport receives daily flights from the major cities of Ukraine, Russia, Austria, Spain, Turkey, UAE and other countries. Please check online for the flights to Kharkov or ask us and we will be glad to help. See our contacts here.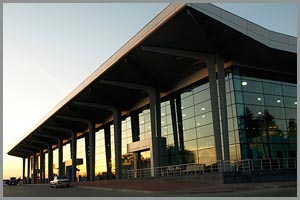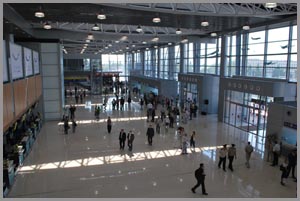 Kharkov is in the area of a mild climate, this is a very green city famous for its huge old poplars and chestnut trees growing all along the central and major streets. There are lots of smaller parks and one huge forest park almost in the downtown that make the air fresh. Here the amount of cars is not as big as in Europe as most people use public transport or walk. This also helps Ukrainian brides to look so fit.
The city has the long 360 years history and the population of 1.5 million people inside the city and almost 4 million people in the area, who regularly come here on work or leisure. So you can always meet lots of beautiful Ukrainian girls and brides in Kharkov.
It is comfortable to fly to Kiev, the capital of Ukraine, from any place in the world and then directly to Kharkov by plane, bus or train.
See more photos of the city from the bird's eye view. This place is worth visiting. And the Ukrainian brides are worth visiting too!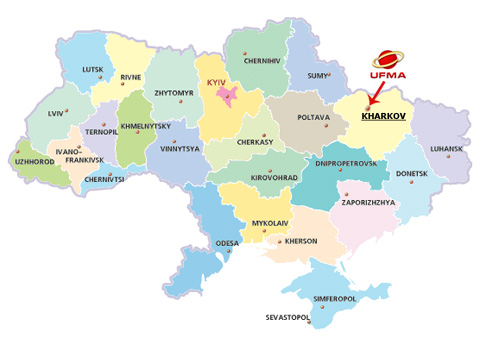 Your safety in the city of Kharkov
For Kharkov, being an international educational center, it is a tradition to welcome people from all over the world to visit, live and study. We have thousands of students from Africa and Arab countries, thousands and thousands of them from Asia. There are many people from USA and Europe who come to live in Ukraine and Kharkov, they come to work and teach languages and various professions and skills.
Ukraine and its people have always been famous for hospitality, kindness, tolerance and peacefulness. They always try to avoid conflict situations. Any time of day and night you can see lots of people walking in the streets, having fun, talking and enjoying life.
Kharkov has the big Police University that supplies professionals for all regions of Ukraine. But many of them prefer to stay here. We have very high concentration of police in the city, the road patrols and officers on duty that care about the order and security.
Kharkov hosted 3 games of EURO 2012 Soccer Cup and welcomed thousands and thousands fans from all over the world. All were happy and pleasantly surprised by their Ukrainian experience. You can safely come to Kharkov on visit or to meet Ukrainian girls!

Kharkov history and places to see
This is the second largest city of Ukraine and the first capital of Soviet Ukraine in the 1930s. It was first settled by the Ukrainian warriors as a wooden tower and fort around 1654.
Being settled in a very good location of high population and cross of many roads, Kharkov gained the important position and became the second biggest and richest city of Ukraine.
In the city center, on the main street there is the largest square in Europe called Freedom Square, which is the place for parades, outdoor concerts and fireworks on the national holidays. By its size, the Freedom Square is 3 times bigger than the Red Square in Moscow and is the third largest square in the world.
When Kharkov was not only the capital of Ukrainian brides, but also the capital of the whole Ukraine, the highest administrative building of those times in USSR was built here. It is on the main square and is called "Gosprom". There are still many government facilities there.
One of the so called sights is the huge outdoor market called "Barabashovo", which consists of thousands of little shops and galleries selling all kinds of goods from all around the world. And around 50 thousand people work at that market to people from eastern, southern Ukraine and Russian who come to shop there.
Kharkov is famous for its churches and cathedrals. See the special photo collection of the Kharkiv churches. The design and decorations of the churches will impress you a lot. Pokrovski cathedral, the oldest church, was founded in 1689. The tallest is Uspenski tower, which is 90 meters high.
Recently the city government has built up several new parks and fountains. One of them is called "Mirror Stream" and is the sign of the city. All wedding processions go there to take photos of a bride and groom. Behind the arch of the Mirror Stream there is the "dancing" fountain with the water of changing colors.
In any time of the year you will find what to do in the big but cozy and comfortable city of beautiful Ukrainian women – Kharkov. See more photos of Kharkov sights.

What else you can do in the city except meeting with Ukrainian girls
Kharkov city is never boring. There are always happening some fairs, holidays, fests or exhibitions, which you can visit together with your Ukrainian girl or bride. At the big national holidays there is always an open air concert in a square with the pop stars from Ukraine performing.
In the historical center of the city, near the Eternal Fire, you can always find the exhibitions of artists and street drawers who sell their handmade souvenirs and nice pictures of the city.
Right on the main street – Sumskaya – on the square of 25 hectares – there is the oldest park of the city – Shevchenko Garden. It consists of several alleys full of wonderful trees and bushes from all over. It is best to visit the park in spring when all this beauty is blooming. Also there are several oaks there of more than 200 years old.
In Kharkov you and your Ukrainian woman can visit more than 10 different theatres, we have the old puppet theatre, opera and ballet theatre of interesting architecture. And of course, the theatres of Russian and Ukrainian drama. For the music lovers there is a good philharmonic theatre, famous for its artists all over Ukraine and further, and the organ hall. All is situated in the city center in a compact area of old city.
Near the river bank and another fine park there, which was recently renovated, there is a big round building of Kharkov circus, which offers you various performances with animals. In Shevchenko park you should visit the old but charming zoo, founded in 1895 and having more than 5 thousand different creatures. Beside it there is a new building of a dolphin arena.
Kharkov is famous for the museums we have – historical, nature, arts and even museum of sex.
We have government and private galleries of fine arts which can be visited anytime for free or very inexpensive cost.
There are lots of new and old night clubs, discos, art clubs and other places to visit in the evening or night. This city never sleeps and you will love your visit to Kharkov and it will be in your memory forever as a very good time!
See more photos of the places you can visit in Kharkov with your Ukrainian bride.
Places to live and places to eat out
Since 2008 when it was announced that Euro 2012 will happen in Ukraine, there were built dozens of new hotels, starting from the modest and inexpensive to the richest and most refined boutique-hotels.
It is most comfortable to be accommodated in the city center, which allows you to have all facilities and major places to see in the walking distance as they all are mostly situated in one area. UFMA will be happy to accommodate you in the comfortable apartments and rooms in the very center of the city in the main street. Your place will have all necessary for good cozy stay, so you can concentrate only on your good time and meetings with wonderful Ukrainian women.
Please see more about the Romantic Tour Packages we provide. They include accommodation and other necessary services.
Ukrainians like to go out to the restaurants and cafes. And here you can satisfy any taste and any eating habits. But of course it is recommended to visit the places with Ukrainian cuisine and try our famous borsh, vareniki and draniki. After this you can visit the wide range or Italian, European, French, Japanese, Indian and other restaurants which are all around the city. Most of places have the menus in English and accept the credit cards. So you will never stay hungry in Kharkov! And of course, you have a variety of places where you can invite a Ukrainian girl and have a wonderful romantic candlelight dinner which will be one of good steps and memories in your tender relationships.
You are welcome to Ukraine! And all of us at UFMA are always ready to make your stay here successful, comfortable and unforgettable!

Use our airport transfer services. Kharkiv airport transfers. Meet and Greet service. Shuttle and translation services.

Ukrainian Fiancee Marriage Agency (UFMA)

Other photos of the city

A bird's-eye view of Kharkov

Parks and places for rest

City architecture

Cafés and restaurants

Temples and cathedrals

Holidays in the city

Interesting monuments

Our nature
Please share this page!