Get FREE letters
from beautiful girls
and updates from
ukrainianfiancee.com!


Kharkov time:
02:47:57
(GMÒ +2)
| | |
| --- | --- |
| | support@ukrainianfiancee.com |
| | ukrainianfiancee |
| | +1-888-323-59-49 |
| | +38-068-953-28-70 |
Address is given upon request
We are always glad to help you!

Ready to travel? Come Kharkiv and continue to communicate with a Ukrainian girl in real.

Ukraine is situated on the east of Europe and there are the direct flights to Ukrainian capital – Kiev (Kyiv) Borispol Airport - from all major capitals of European countries.

The flights from the USA usually connect via Amsterdam, London or Frankfurt.


Visas to Ukraine

If you find your country in this list, all you need is to pack your luggage, take the passport and come! You are free to stay in Ukraine for up to 90 days.

Visas are still required for citizens who enter Ukraine with the purpose of employment, permanent residency, study and work at the diplomatic missions in Ukraine or with any other purpose if they are going to stay in Ukraine for more than 90 days.



USA, Canada, Japan, European Union nations, Switzerland, Liechtenstein, Andorra, Vatican, Iceland, Monaco, Norway, San Marino, Mongolia and the countries of the Commonwealth of Independent States (except Turkmenistan).




Getting to Kharkov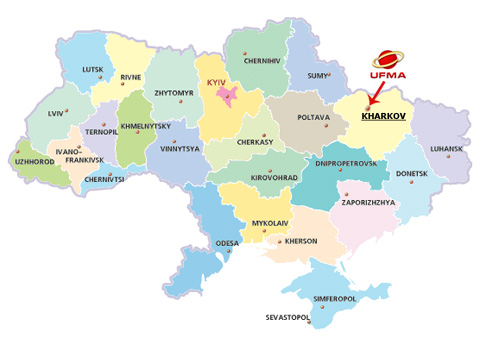 There are

two most popular routes of getting to Kharkov by air

– via Kiev (Kyiv), the capital of Ukraine; and via Warsaw, the capital of Poland.

You can book the flights to Kiev or Vienna on any convenient booking site or aggregator.

Also it is possible to fly directly to Kharkov via Istanbul, Turkey (www.flypgs.com) and Minsk, Belarus (www.belavia.by)

If you are flying via Kiev (Kyiv), you can get Kharkov in three ways: bus, plane or train.
Booking plane tickets: www.flyuia.com
Booking bus tickets: www.autolux.ua/english
The buses go right from the airport building (Kyiv Borispil Airport), so you don't need to go anywhere to the city.
The train tickets can be purchased directly at the railway stations.



The airport codes for booking are:


Kiev (Kyiv) – KBP
Kharkov (Kharkiv) – HRK
Istanbul - IST, SAW



If you are using any Romantic Tour Package from UFMA

, we will meet you upon your arrival here and we will take care of all your needs on the ground of Kharkov city.


> Click to read more about Romantic Tours <
More info about Ukrainian customs, traditions, stay in the city of Kharkov and lots of other useful tips is in the "Ukrainian Dating Guide" that you can download FREE from your profile upon

Registration

.



Important List of Things to Take When You Travel to Ukraine
Watch the video or check out the list below.




It is VERY important that you check and have this list of things when you travel to Ukraine. This will help you avoid many problems when you are here:

- The Passport: check if your passport is valid and if you don't need a visa to come Ukraine or you have one in your passport;

- The Credit Card: call your bank and check if your bank will allow to use it in Ukraine and set the limit that will allow you to pay for accommodation and needed services;

- The Cash: have 200-300 USD or Euros with you for extra expenses;

- Transfer & Accommodation: check if you have it booked and waiting for you;

- Comfortable Clothes and Shoes: they need to be good for the season;

- Phone or Laptop: you need a phone or Laptop for the connection. Better have Viber/ Skype/ Whatsapp or other programs to contact people;

- Details of People: have the details of people you know in Ukraine and who will be meeting you, so you can notify them if the flight is delayed or something;

- Necessary Medicines: check if you have enough of them, especially the ones you take regularly;

- Photocamera and Memory: take a camera with you to take photos and videos;

- Phrasebook: a small phrasebook or a phone application will be a great help, so you can talk with a taxi driver, in a café, or a store;

- A Map: a paper map of the city (print it out) or the map application on your phone to find the way easily.

These things will allow you to have a comfortable stay in Ukraine without any problems.

Have any more questions about your trip? Contact us and we will help you with planning.