Choosing gifts
"The best gifts are the ones, that let us express the emotions and call special feeling.", - says Robin Speesman, the gift expert.
Use the following hints to choose the gift, that will match best the interest, style and personality of the lady, who receives it.
Try to answer the questions.
Does she have any special interests of hobbies? Maybe she collects the teddy bears, or likes the folk music? Our Special Order service can fulfill any request.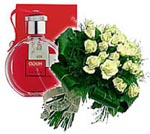 Is she romantic? The first places among the romantic presents take flowers. They are the best present, saying "I Love You".
Flowers are the present, which always has the deep sense. More then 25% ladies say that most of all they would like to receive the flowers as a present from the beloved man, then goes jewelry, clothes and perfume.
While most of people get pleasure from gifts on the days of traditional holidays, the present "without special reason" takes the first place; it is most pleasant reason to receive flowers. The flowers are most preferable for expressing feelings among all variety of presents.
Here is the interesting statistics,
based on a survey of American Florist Organization.
What is the best present, meaning "I Love You"?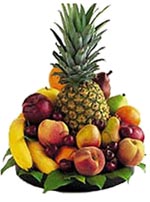 - Flowers – 37%
- Jewelry – 34%
- Perfumes – 5%
What present will most probably call your smile?
- Jewelry – 26%
- Flowers – 23%
- Tickets to entertainment facilities – 12%
Which present would call your special feelings?
- Jewelry – 33%
- Flowers – 24%
- Clothes – 10%
What is your favorite reason to receive flowers?
- Without any reasons (surprise) – 30%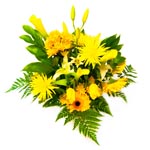 - St. Valentine's Day – 20%
- Anniversary – 14%
- Birthday – 10%
Which present would you prefer to receive from the beloved man?
- Flowers – 26%
- Jewelry – 21%
- Clothes – 15%
89% of surveyed people prefer to receive the gifts, that reflect the individuality of the recipient. The flowers and flower compositions have hundreds of shapes and colors – this is the easiest gift to make it original and individual.
Choosing flowers

The first step should be definition of the preferences of recipient. For example: What color does she like? Does she have favorite flowers? What are her hobbies? What message do you want to send?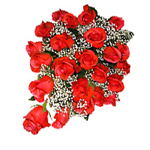 Secondly, think which flowers best match the personality of your beloved person, whom you want to send flowers.
Character and flowers

Shallow person, who prefers to spend time out of home, in the nature would like big flowers with strong flavor – roses, lilies.

Generous, spontaneous, eccentric person would prefer the flowers of soft shades (light, white, pink), light aroma, and in a fine packing.

Personality who likes self-development, everything unusual would like flowers of bright, exotic colors, and the bright unusual packing.

Family oriented, reasonable and classical person would like the chic compositions and bouquets with big variety of flowers.

We wish you to make the right choice!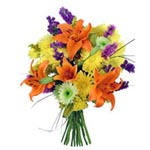 Most popular gifts